Training for Trainers (T4T)
In the last 10 years, T4T has multiplied from a small group of disciples into a church planting movement (CPM) of over 80,000 new churches including 2 million baptisms! Here in NYC, it is our vision to see CPM's happen among unreached people groups. T4T, coupled by fervent prayer, is just one of the processes that we are using to see the Spirit of God bring all peoples to Himself.
What is T4T?
Training for trainers (T4T) is a process that involves abundant gospel sowing followed by focused training of the new Christ followers. The vision of T4T methodology is to see a CPM or Discipleship Making Movement (DMM) occur amongst an unreached people group. The basic premise is to train disciples who can easily contextualize the Gospel and replicate the process of evangelism and discipleship to their "oikos" (circle of influence, ie. household, family, friends). The oikos will in-turn repeat the process of evangelism and discipleship that was modeled to them by their trainers. Once a group of believers emerges, their church is then immediately trained to reproduce. A typical T4T session would be divided into three parts:
Pastoral – Pastoral care, worship, accountability, vision-casting
New Lesson – The new lesson would include something to "OBEY"
Practice – Practice the obedience and set goals for the week
This simple model provides a reproducible way to train and multiply disciples. The focus in T4T is not on knowledge based discipleship, rather the focus is on obedience based discipleship. Each trainee is encouraged to obey what they have learned by practicing and holding one another accountable. This allows for all trainees to in turn become trainers.
What is the difference between Discovery Bible Study and T4T?
Below is a comparison of two most commonly used strategies for church planting movements. Both have been independently developed with the goal being rapid reproducibility of churches through obedience based discipleship.
Comparison of Church Planting Strategies*
*Comparison taken from "Missions Frontiers" magazine, 2015 Jan/Feb Issue. "T4T or DMM (DBS)?
Resources
Read about Ying Kai's (founder of T4T) testimony on how God is working through the world's fastest growing church planting movement.
T4T: A Discipleship Re-Revolution, by Steve Smith with Ying Kai (Richmond: WIGTake Resources, 2011), 352 pp.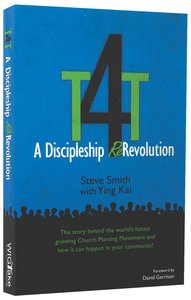 Websites: